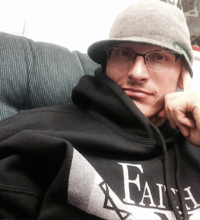 Jeff Holland, LCSW
Executive Director
Sometimes referred to as EPC's version of Siddhartha, Jeffrey has traveled a journey which has included seeking empty pleasures and paying the price for his choices, to searching for meaning and truth through education and service.
The fact that some of Jeffrey's lessons have not been taught, but rather have come from his own struggles and experience, makes him an invaluable leader and mentor as EPC's Program Director. "I am passionate about helping people and I love to see people succeed in life.
If there is a way that I can help facilitate that, then I am more than happy to do what I can. I love my family, my friends, my music and my dog. I love life. I believe I am exactly where I am supposed to be, here at the Endorphin Power Company."
Jeffrey is a Masters level clinician. He started volunteering with North Americas 1st Syringe Exchange program in the 90's and has been involved in the substance abuse field for 12+ years at various levels including harm reduction, detox, advocacy, case management and counseling.
---